Ballina will be presenting a month-long exhibition of wetland-themed art and photography, along with wetland walks and other activities for World Wetlands Day with the theme for 2015 Wetlands for our Future.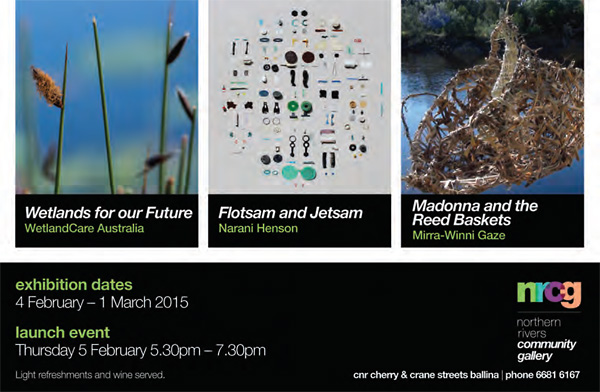 EXHIBITIONS AND AWARDS
WetlandCare Australia presents Wetlands for Our Future, an exhibition of winning and selected works from the WetlandCare Australia Photography Prize at Northern Rivers Community Gallery.  Launch event Thursday 5 February.
Flotsam and Jetsam – Narani Henson presents an exhibition and workshops exploring the impact plastics have on the coastal environment.
Madonna and the Reed Baskets – Mirra-Winni Gaze weaves a web of ancient lore to feel at one with country with her reed baskets with a workshop weaving from natural wetland materials.
8th Annual WetlandCare Australia Photography Prize 2015 winners will be announced on Saturday February 7 at 1pm. The opening of an exhibition of winning and selected works from 2008 to 2015 will be on display until 1st March. Artworks and photographs will be for sale.
You are also invited to to contribute to a community wetland mural that will be set up in the gallery through February.
For more details and more activities view the Exhibition Brochure.
WETLAND WALKS
You are also invited to join a series of Wetland Walks in the East Ballina area on Saturday 21st February 2015.
Wetland Wander – 8.00am at Prospect Lake
Sedge Stroll – 9.30am at Prospect lake
Froggy Nights – 7.00pm Southern end of Chickiba Sports Field
Bookings are essential to WetlandCare Australia on 1800 816147 by 4pm on Friday 20th February for all walks. If you are attending as a group, please register each participant.
For more info and booking details view the Wetland Walks Flyer.