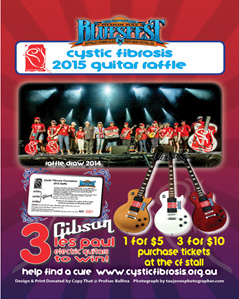 For the past 18 years on the North Coast, Alan and Jenny Tunks have passionately been co-ordinating fundraising for the Cystic Fibrosis Foundation along with the help of the Byron Bay  Bluesfest and in conjunction with Gibson Guitars USA for the past 12 years, to 'help find a cure'.
Again this year, 3 guitars will be raffled, lifting the total funds raised well beyond the $374,000 raised to date.
In late October 2014 the Federal Government approved the medicine known as 'Kalydeco' .
This is a major breakthrough for all Australians with Cystic Fibrosis and those who carry the gene mutation G551D.  Medical experts consider 'Kalydeco' the most important development in the treatment of the disease since discovering the Cystic Fibrosis gene in 1989.
Alan & Jenny Tunks have renewed vigour in light of this new development, and humbly ask that you all continue to support their Charity Raffle.
Raffle tickets can be purchased onsite at the Byron Bay Blues Fest and various locations in the lead up to the festival including:
Ballina/Byron Gateway Airport   on Thursday 19th March  between  7 am & Noon.
 Ramada Hotel and Suites Ballina on Friday 20th & 27th March between 4 pm & 8 pm