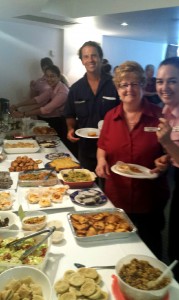 Fun was had by all last week as we participated in A Taste of Harmony which celebrates diversity in Australian workplaces by encouraging colleagues to share food and stories from different cultural backgrounds from across the globe.
This initiative was founded by the Scanlon Foundation and a philanthropic organisation established in June 2001. Its mission is to support the creation of a cohesive Australian society.
The Foundation supports a number of social cohesion research projects and makes grants for charitable purposes in Australia, particularly in the areas of cultural diversity and social cohesion.
With an array of cultural heritages as diverse as their culinary styles, A Taste of Harmony 2015 Chef Ambassadors include  Guy Grossi, Ed Halmagye, Miguel Maestre and Carly Day to name a few.
Our staff made many delicious meals from around the world including traditional dishes from Bangladesh, India, Scotland, Germany and Australia!
Thank you to all our staff for participating.