Lake Ainsworth, Bundjalung Country, Lennox Head
A large pink flamingo, a unicorn, and a crocodile? …  Just to name a few of the colourful inflatable beacons of fun floating in the lake on a lazy Lennox afternoon. Whilst you might not see a real life flamingo you can certainly catch some cute ducks frequenting the lake or even perhaps a turtle popping its head up. The soundscape is an array of excited children splashing about, a dedicated swimmer streaming through the water, or a barbeque sizzling away ready for an afternoon picnic.
Lake Ainsworth, on Bundjalung Land in Lennox Head, is a Tea Tree infused lake with a brilliant reddish-brown tone. The properties of the Tea Trees have many antiseptic uses. Historically, the lake was a sacred Aboriginal Women's site where these special antiseptic qualities were utilised for bathing after birth. Before, during and after visiting, always be sure to respect and take care of this special place.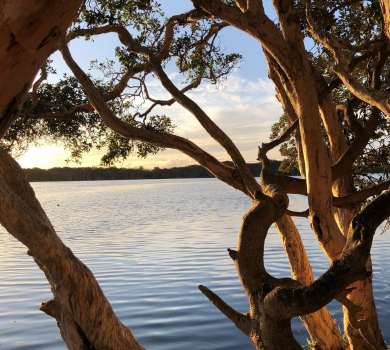 Taking the scenic Coast Road, Lake Ainsworth is only a 20 minute drive from the hotel. Spot dolphins at play and whales during the season from May to October each year. Be sure to stop at Pat Morton Lookout found here. When you reach Lennox turn left at the roundabout and head down the hill towards the main street of Lennox. Keep an eye out for any of the boutique shops that might catch your eye. (Especially Lennox Head Gelato & Coffee Co, they even have dairy free ice-cream).
Upon arriving at the Lake there is an array of entry points, if it looks busy it is worth while taking a gentle stroll along the path to find your own secluded spot under a tree to setup for the day. Our essential packing tips are: Towels, water, a good book or magazine, sun hat, a floatable device (the more unique the better) and some snacks. Alternatively you can grab lunch, coffee or a smoothie at "Kiosk" and if you're lucky you might catch some local talent playing Live Music with "Sounds on the Sand".
It's easy to spend the whole day here with the beach just a stones throw from the Lake, you can get your salt water fix as well. Once the day is done you can have dinner sorted with one of the many delicious restaurants to try along the Lennox Main Street. Enjoy a refreshing cold beverage with views of the ocean at the Lennox Hotel or Lennox Head Pizza is a great choice for dine in or takeaway – why not grab a pizza to go and relax back at Ramada admiring the sunset with sandy hair and sun kissed skin.
We hope you enjoy your day out at the lake and don't forget to tag us in your adventures at #ramadaballinaexplore. Click here for more adventure ideas.